Gjuice Water-Based Lubricant, 100 ml
Pickup currently unavailable
One-of-a-kind best quality lubricant on the market

Have you ever seen a lubricant with striking design, comfortable hold, perfect sprayer which leaves no leaks on the bottle and the best ingredients – everything in one product? Sounds unbelievable? Get yourself ready as the following news is exactly for those who still don't believe this is possible!

You will love its breathtaking packaging...

Meet a new line by Gvibe – Gjuice – which comprises silicone lubricant, water-based lubricant, and toy cleaner. First, your sight will be captured by one-of-a-kind breathtaking packaging of Gjuice. You may even think it is an haute couture perfume or a mysterious accessory the purpose of which you are to discover. The bottle is premium class and super elegant. Moreover, it is designed in a drop shape so it lies comfortably in your palm. All products in Gjuice line are definitely high-end and have a luxurious boudoir style.

Made in USA.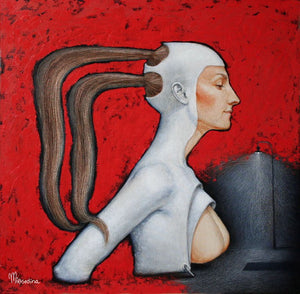 Gvibe by Mirosedina
The functionality is complemented by an ingenious design in collaboration with Mirosedina. A female artist famous for her elegant and sophysticated style.
Features
Happiness guarantee

If you don't feel the positive vibes after 30 days, we will refund your money, no questions asked. Even if the packaging was opened. We will dispose the product and provide you a credit for the same amount to spend on Gvibe.com website.
Gjuice - Water Based Lubricant
Gjuice Water Based Lubricant - Super