Gcat, Gvibe's Vacuum Clitoris Stimulator
Pickup currently unavailable
A development that we have been poring over for several years to create the perfect wave device. We have carefully considered every detail so that you can just enjoy!
We have developed the Smooth Landing technology especially for Gcat. We noticed that when using a vacuum stimulator many women face an issue of the clitoris becoming hypersensitive, and at the time of orgasm, they have to remove the device from the clitoris in order to cum. Of course, in this case orgasm turns out to be blurry. With Gcat, at the moment of climax, you can reduce the stimulation so that the sensations are softer. To do this, press and hold the button for 2 seconds to return to the first, most delicate mode. No other vacuum device has been able to deliver such long, intense orgasms!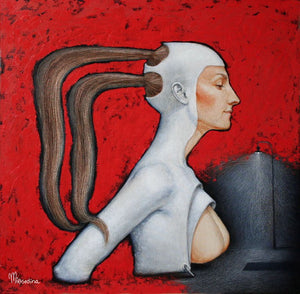 Gvibe by Mirosedina
The functionality is complemented by an ingenious design in collaboration with Mirosedina. A female artist famous for her elegant and sophysticated style.
Features
Premium Silicone
Happiness guarantee

If you don't feel the positive vibes after 30 days, we will refund your money, no questions asked. Even if the packaging was opened. We will dispose the product and provide you a credit for the same amount to spend on Gvibe.com website.
User Manual
Gcat, Gvibe's vacuum clitoris stimulator
Great Product
This a fantastic product it will definitely give you a great orgasm, you have to get it in the right place don't give up. It is different than every other toy I have in a good way. The only thing I hate about the product is that it didn't come with a toy bag, every nice brand does. I guess they are stopping this sad.
Amazing!
If you're seeing this toy and thinking hmmm do I really need it? The answer is YES! This toy is absolutely amazing. I have the Satysfer Pro 2, and I have the womanizer Premium Eco and the GCat is better than both of them. I highly recommend this toy :) It does not make a lot of noise once the toy is on. The material feels soft and the GCat looks very luxurious.
Bloggers testimonials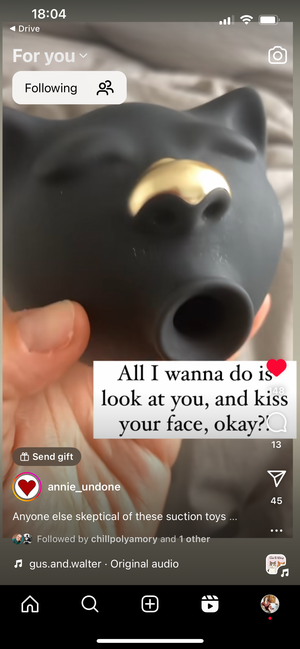 Gcat
AnnieUndone (28K Followers)
If you haven't tried a suction toy before, I have to say, this is a unique sensation and it's SO enjoyable for either solo *or* partnered play.