Gcandy, a rabbit vibrator with the twisted shaft
Pickup currently unavailable
We have created Gvibe Gcandy for those who like double stimulation – deep, strong, with a feeling of fullness. And there are simply no analogues to this device!
Gvibe Gcandy is made of Bioskin, a soft and gentle material that is odorless and quickly adjusts to body temperature for a realistic caress experience.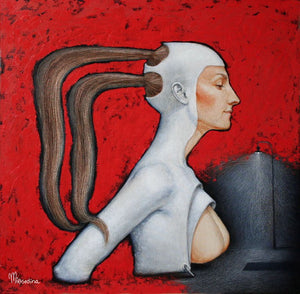 Gvibe by Mirosedina
The functionality is complemented by an ingenious design in collaboration with Mirosedina. A female artist famous for her elegant and sophysticated style.
Features
Ultra-real Bioskin
Happiness guarantee

If you don't feel the positive vibes after 30 days, we will refund your money, no questions asked. Even if the packaging was opened. We will dispose the product and provide you a credit for the same amount to spend on Gvibe.com website.
User Manual
Amazing toy well worth the money!
Me and my partner love using this toy in the bedroom 😏😍
You need this
OMG! You need this toy. The material is amazing.. makes you cum so quick and doesn't disappoint
love it amazing toy orgasm is amaaaaazing
FINALLY!!
I bought mine off Amazon and it came to around £80 to buy.
Once I figured out how to turn it on, I have been missing this all my freaking life! It's not quiet, but no one's going to hear it unless they're actively trying to hear it. It feels so good. I didn't ever think I'd write a review for a vibrator, but I had to light the beacons.
This is money well spent. Thank you thank you thank you!!!
ZET
Disappointed with a time of delivery. Item was available online and just been informed about shortage when I actually paid for it. Waited 3 weeks!!! The item itself is was i was expected-very well made. "Doing the job". Maybe a bit overpriced.
Dear Zbigniew,
Many thanks for your review and please accept our apologises for the long delivery. We were in the process of changing the shipping company, but of course it doesn't excuse us.
Hope you enjoy our product and see you soon in our shop:)