Gplug Bioskin™ (SALE!), Vibrating Butt Plug
Regular price
$49.90
Sale price
$69.90
Pickup currently unavailable
Gvibe's Revolutionary Bioskin™ material feels and responds like the real thing. It's almost impossible to believe how realistic this sex toy's material really is. GVibe reached a new height in the evolution of pleasure products' materials when we created "BIOSKIN". It's as close to the human body as possible.
Bioskin is ecologically safe, hypoallergenic, premium, medical grade, silicone material. It warms quickly to body temperature and is soft and supple for easy insertion and comfortable anal vibration. The Gvibe Gplug Bioskin measures 1.54 in (3.9 cm).
Vibrating butt plug Gvibe Gplug Bioskin was specially developed with extra pleasure seekers in mind. This anal stimulator is perfect for men, women, and all genders (anyone with an anus that likes to be stimulated!). Fun and fulfilling alone or with a partner. You can use G plug during foreplay or penetration for that extra full feeling and stimulate the p-spot and the g-spot. 
Get ready for stronger, longer, and more intense orgasms when you add Gvibe toys and plugs into your pleasure play. 
Gvibe Gplug Bioskin has an anatomic form designed specifically for long-lasting use. The blunted point is extremely comfortable. The base is thin and flat to enable long-lasting use. Now YOU can stand, sit, run and even play sports without taking it out! Plus, GPlug is compatible with GringXL as a remote control for even more ways to play.
Strong and nearly silent – inside Gvibe Gplug Bioskin there are next generation motors offering intense vibration that makes almost no sound. GPlug is also 100% waterproof and perfect for play in the shower or tub. 
Designed in London.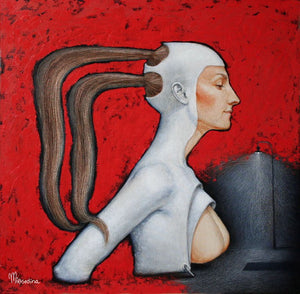 Gvibe by Mirosedina
The functionality is complemented by an ingenious design in collaboration with Mirosedina. A female artist famous for her elegant and sophysticated style.
Features
Ultra-real Bioskin
Happiness guarantee

If you don't feel the positive vibes after 30 days, we will refund your money, no questions asked. Even if the packaging was opened. We will dispose the product and provide you a credit for the same amount to spend on Gvibe.com website.
Lovely vibe
This is a great butt plug! Just the size I needed.
Good, but...
It's an excellent product, but the vibrations could have been stronger
Lovely plug, not too much or too little!
This plug is super nice, I could stand and walk around without it hurting or rubbing anywhere uncomfortably. Its bioskin is very soft and smooth, and lube works wonders with it. The vibration is insane and absolutely wonderful, also always love rechargeable toys! So glad I got this toy!!
I got this with the Gring small but I have yet to actually use it with the plug! But, it does connect quickly. Unsure of the range, but hopefully it's able to be a bit away!