Gvibe Gpop2
Pickup currently unavailable
Gvibe Gpop 2 is one of the most versatile sex toy in existence.
Initially, we conceived Gvibe Gpop2 exactly as an anal vibrator: a prostate massager or a plug. But the distinguishing feature of all our products is that the options for their use are unlimited: Gpop 2 is good both as a device for the G spot and as a clitoral stimulator.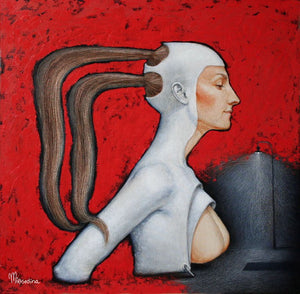 Gvibe by Mirosedina
The functionality is complemented by an ingenious design in collaboration with Mirosedina. A female artist famous for her elegant and sophysticated style.
Features
Premium Silicone
Happiness guarantee

If you don't feel the positive vibes after 30 days, we will refund your money, no questions asked. Even if the packaging was opened. We will dispose the product and provide you a credit for the same amount to spend on Gvibe.com website.
User Manual
THOSISTHINGISSOGOOODIFELTITHITEVERYSPOYtT:))))))))
THOSISTHINGISSOGOOODIFELTITHITEVERYSPOYtT:))))))))
Sexy. Some recommendations to improve user manual, etc
Reviewing the Gpop2 vibrator::
The first sex toy I ever brought was an internal vibrator— though I didn't like it, found the noise super distracting and never came to like it. Many years later a lover turned me onto the magic wand, which is now a mainstay for quick solo orgasms. I've become open to exploring vibes again, & have tried the Enby vibrator as well as a bullet& bendy head combo. This #Gvibe toy knocks those both out of the water:
-The motor has a good amount of power. I don't have to buffer myself with layers like I do with the Hitachi, but it still packs a vibe that will get me there— plus the noise doesn't feel intrusive or distracting. It takes longer than a Hitachi, (that's what I want from it) which encourages a bit more exploration & can be sustained for share play.
-5 settings/speeds is a great amount, gives the option for increase in intensity & for pulsation, but without requiring scrolling through a whole bunch, feels more intuitive & integrated.
-It holds a charge!!! 😍 I don't have to make sure it's charged up before each session.
-The magnetic charging port feel luxurious as I can wash it without minding where the water goes, including taking it in the water!
-I an experience where I couldn't get butt smell off of it with soap... though eventually I did, with vinegar. The company was quick to respond to my inquiry of if I could cause alcohol on it (recommended not to), though ideally that type of details will be included in the user manual in the future. In the mean time I feel hesitant to use it anally again & want to know more about their specific silicone best care.
-The silicone feels luxurious & the texture feels nice on my skin with or without lube.
-Aesthetically, the rose gold & blue combo really does it for me. I also appreciate this company's use of drawings & art in their toy representations!! Totally beautiful/fun, in my view the drawn images of the Gpop2 show the bulb looking bigger than it is. They could add more drawings that include different body types & sizes in the future.
-I like the size of the bulb, & device as a whole. It's fun to hold and sexy to use. I like the flexible nature & that the vibrations also extend into the neck.
Love it
I bought 2 one for my husband and one for me!!
Maravilla para ellos y para ellas
Gpop2 es un juguete precioso y de gran calidad: ergonómico, seguro y respetuoso con el cuerpo. Ideal para iniciación a las sensaciones del juego anal. Sencillo y potente.
Genial
Muy contenta con el producto. Estéticamente bonito, discreto y de buena calidad.