Grabbit, Gvibe's rabbit vibrator
Pickup currently unavailable
Gvibe has reimagined one of the most popular vibrator models. Grabbit has ears, and it has not 2 motors, but as many as 3!
Why is this needed? Not all women enjoy direct stimulation of the clitoral head. Some women, during orgasm, get an unpleasant feeling that caresses are too strong, and touching the clitoris is unpleasant. But if you caress the clitoris on the sides, then the stimulation is more gentle, and in combination with the powerful vibration of the vaginal part of the device, you are guaranteed a deep, long orgasm.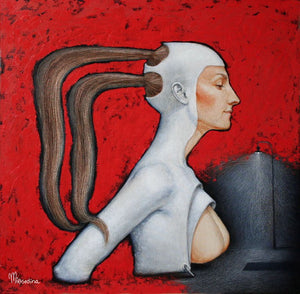 Gvibe by Mirosedina
The functionality is complemented by an ingenious design in collaboration with Mirosedina. A female artist famous for her elegant and sophysticated style.
Features
Ultra-real Bioskin
Happiness guarantee

If you don't feel the positive vibes after 30 days, we will refund your money, no questions asked. Even if the packaging was opened. We will dispose the product and provide you a credit for the same amount to spend on Gvibe.com website.
User Manual
Well played, Grabbit
Took me a minute to find just the right setting, but when I did, it, well, took me a minute.
Great toy!
Very delicate and stylish. High quality and strong motor