Greal 2, Gvibe's realistic vibrator (Violet)
Pickup currently unavailable
Gvibe Greal 2 Violet has been the brand's bestseller for many years and is truly a premium device. Unlike many manufacturers, we paid attention to every detail of our product – from the shape and material to the motor and control.
Gvibe Greal 2 Violet is one-of-a-kind product controlled remotely by Gring XL.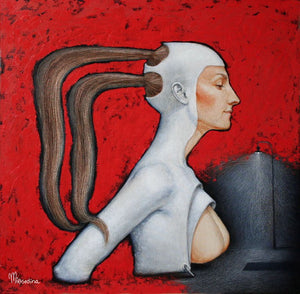 Gvibe by Mirosedina
The functionality is complemented by an ingenious design in collaboration with Mirosedina. A female artist famous for her elegant and sophysticated style.
Features
Ultra-real Bioskin
Happiness guarantee

If you don't feel the positive vibes after 30 days, we will refund your money, no questions asked. Even if the packaging was opened. We will dispose the product and provide you a credit for the same amount to spend on Gvibe.com website.
User Manual
Disappointed
I am writing this review because I have been wanting this toy for about a year now, so I decided to buy one. I wanted it for anal play (prostate massage). And I was very disappointed, first off it's curve down it very uncomfortable and can be painful if was straight or curved up it would be a great toy. I try it on a Liberator mount it a little better but still uncomfortable and the vibration has one speed to high you can't change the speed I like a lower vibration I have other Gvibe toys and they are great and I ask wife and about it and she said that she wouldn't use it look uncomfortable 😣, if I had everything to do over I wouldn't have bought it.
Dear customer,
Thank you for your feedback. We have made improvements to the latest version of Greal, with a more flexible and comfortable shaft. For enhanced pleasure, we recommend using it with our accessory, Gring which is a finger vibrator and remote control that provides more options for pleasure play. Our 30-day happiness guarantee, allows you to exchange the product if it doesn't bring you complete satisfaction. If you would like to explore this option, please don't hesitate to reach out to our dedicated customer support team. Your happiness is important to us, and we're here to assist you every step of the way.
Best regards,
Customer Service Team
10/10
This is my go to sex toy because it is just the right size in terms of girth and length. My favorite part of this toy is the warming feature. It feels more real due to the warming feature. It doesn't make a lot of noise with the vibrating which is also nice if anyone is concerned about that. If you purchase this toy you won't regret it!
Great Dildo
Very realistic, soft dildo! It has great intense vibrations and also compatible with the GRing!!! Suction cup is not the best but I used in a Liberator pillow mount with the GRing and Gplug XS all at the same time and had a truly intense unforgettable orgasm I am craving a repeat of already!
Amazing!
Highly recommend this one :) amazing warming feature and good vibrations.