Gvibe Greal mini + Gring XL
Pickup currently unavailable
FREE SHIPPING
3-year warranty
Amazing Set GReal mini + Gring XL
Greal mini + Gring XL set
What does it mean?
Gvibe Greal mini is one-of-a-kind product controlled remotely by Gring XL. Now you have 2 separate products in a set which you can easily combine in your dreams. 
Sometimes you crave the real thing
Gvibe's Revolutionary Bioskin™ material feels and responds like flesh. It's almost impossible to believe how realistic this sex toy's material really is. We reached a new height in the evolution of massager materials when we created "BIOSKIN". It's as close to the human body as possible.
Not only is it possibly better than the real thing, the G real mini is an ecologically safe, hypoallergenic, premium quality vaginal vibrator.
Enjoy 100% waterproof, lifelike body safe BIOSKIN™ medical grade silicone – Gvibe G-real mini is perfect for play in the bath, shower, or hot tub. This g-spot vibrator is great for vaginal stimulation or anal vibration. You've found a sex toy that works for men, women, or any gender and can be used to stimulate internally and externally for clit stimulation too. With its convenient magnetic charger, it's simple to stay ready for realistic feel, deep vibration, and satisfying penetration with G real mini.
Designed in London.
Features
Greal mini + Gring XL set

Ergonomic design, natural color

Powerful yet quiet motor.

Six vibration modes with changeable intensity – from light tremors to intense vibration.

Intuitive controls.

Made of Revolutionary Bioskin™ – material.

Odorless.

100% waterproof.

Up to 4 hours operation on one charge of battery.

Magnetic charger. Please note the initial charging time is 2 hours.

Size: 7 x 1.18 in (18 x 3 cm).

3-year warranty.

Travel lock: to unlock press the "+" button and hold for two seconds.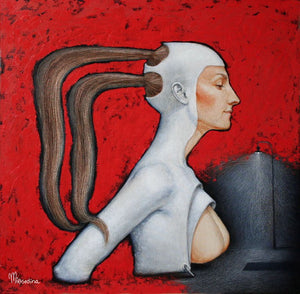 Gvibe by Mirosedina
The functionality is complemented by an ingenious design in collaboration with Mirosedina. A female artist famous for her elegant and sophysticated style.
Features
Happiness guarantee

If you don't feel the positive vibes after 30 days, we will refund your money, no questions asked. Even if the packaging was opened. We will dispose the product and provide you a credit for the same amount to spend on Gvibe.com website.
User Manual